Background Via a Compilation of Previous E-Mail Updates and Text Messages Sent to Friends & Family

(In chronological order)

George the Airedale Battles Lymphoma

In an effort to provide timely updates to  George's multitude of friends and admirers,

brief, daily status reports posted to this site will replace e-mailed updates.

Thursday, December 18, 2008

Subject: Devastating News About Georgie

I just have a second, but -- now that we have a diagnosis -- I wanted to share what has transpired with our beloved Georgie the last few weeks.

Long story short (and it's a LONG STORY):

We took George to our vet the Monday after Thanksgiving (Dec 1st) for a blood-shot eye.  He prescribed drops, but the eye showed no improvement after one week.  Therefore, we decided to have George seen by his specialist in Bridgeton, MO (the one who CORRECTLY determined he DID NOT have Lyme disease a few years ago), and I was able to get an appt on Wednesday, Dec, 10th.

The specialist (he's brilliant) quickly diagnosed George's eye problem as "Horner's syndrome"  - a neurological condition -- and set out to find out if there was an underlying cause by performing a Thyroid panel and a chest X-Ray.  We were shocked beyond belief to find that the underlying cause was a large mass in his chest!

The next morning, a surgeon performed an ultrasound-guided biopsy of the tumor and they told us the results would not be back until this past Monday, December 15th. 

Knowing that either outcome of the biopsy would require MAJOR ACTION:  Benign tumor=major surgery; malignant tumor=major oncology treatments, the specialist recommended that we get on the schedule at the world-renowned Univ. of MO Veterinary Teaching Hospital. 

After finding that their first available appt was Jan 7th, I pulled some strings with George's leg-surgeon -- who is a professor at Mizzou -- and was able to get on the schedule this past Tuesday, so we drove to Columbia, MO in an ice storm.

It was an emotional roller-coaster after we arrived as the St Louis pathologists had notified us on Monday that they were 90% sure it was a benign mass -- so we thought we were going to Mizzou to discuss surgical options.  The researchers/doctors at Mizzou did a FULL DAY of their own testing, however, and determined that it is lymphoma, so surgery would really do no good, but chemo may be effective.  They wanted to start chemo right away, so -- despite the fact that we had no provisions for an overnight stay -- we took George (still woozy from a day of tests) to a pet-friendly hotel so we could start more tests and do his first chemo treatment yesterday morning.  We arrived back home with George last night.

The specialist in Bridgeton will administer the chemo protocol outlined by Univ of Missouri in weekly treatments for 25 weeks.  Due to the fact that we started his treatments on a Wednesday, it looks like we'll be spending Christmas Eve and New Year's Eve with Georgie at his treatment sessions.  Fortunately, Dave and I are off work over the holidays, and have already canceled any plans we had for family gatherings, etc..  so we can spend every moment with George in case he should have any side effects, etc..   As usual, however, there is no place we'd rather be anyway then home with George (we just wish the circumstances were different.)

The complete devastation and anguish that Dave and I are experiencing is matched only by our level of commitment and resolve to do whatever it takes to try to get George's lymphoma into remission (there is no "cure.")

Amazingly, George is the one lifting OUR spirits during this excruciating time, continuing the role which he has taken on since our loss of Rick....

As time permits, I'll try to send out periodic updates on how George seems to be responding/tolerating the treatments.

Sunday, December 21, 2008

Subject: Stressful Weekend with Georgie

We never thought we would think that a weekend has been too LONG, but this one has been.

George has been restless and agitated while somewhat lethargic and has had an increased frequency of hacking episodes, which are very unnerving.  I emailed his oncologist at Mizzou (Dr. Rissetto) and Dave and I are going to stay home from work in the morning and call Dr Hause in Bridgeton when they open at 8am to see if they can work us in tomorrow morning. 

We need to ensure that he does not have pneumonia and he may want to do another chest X-ray to see if the tumor has grown from last week....

I'll keep everyone posted.

We had a rough weekend with George, who seemed to be experiencing somewhat labored breathing and was demonstrating disconcerting episodes of hacking/coughing and acting a bit confused and quite lethargic.  (This was our first weekend EVER that seemed to just last FOREVER.  )

We considered taking him to the ER Animal Hospital in Collinsville yesterday (Sunday), but didn't want to subject him to any more trauma unless it was absolutely necessary and we felt a bit uncomfortable taking him somewhere that was not familiar with his case.  On the other hand, even though we knew we would be taking him back to the specialist in Bridgeton on Christmas Eve for his chemo treatment, we knew we couldn't endure another two days of worrying about his disconcerting behavior.  We also considered making the trek down to Mizzou yesterday to be treated at their ER, but, in the end, I e-mailed his oncologist at Mizzou who advised us to just wait and get him into the specialist in Bridgeton (Dr. Hause) this morning.

Dave and I both stayed home from work and I called as soon as Dr. Hause's office opened at 8am (I literally waited for the clock to switch to 8 and then hit "dial.")  Dr. Hause said he could work us in at 9:45, which was just as well as it  allowed us to miss rush hour on the bridge.  After examining George, Dr. Hause he said he definitely needed to do a chest X-Ray as his heart sounded "muffled."  When they tried to take their first X-rays of the week, however, they determined the machine was not working properly and they needed to call the technician.  They asked us to "leave" George for the day, so they could do the X-ray as soon as the machine was fixed.  Dr. Hause's staff obviously doesn't know us well as yet, as we informed them that we have NEVER "left" George any where and that we would be staying with him, regardless of how long it took!    (And so began our 8 hour stay at Associated Veterinary Specialists in Bridgeton. Dave and I have decided that we need to invest in a big-screen TV and wireless Internet for the AVS waiting room.)

George was such a good boy hanging out in the waiting room, looking for the office cat and greeting all the other patients as they entered (he seemed much perkier today than over the weekend).   He was not allowed to eat today, however, in case they needed to sedate him, so we felt guilty trying to sneak our snacks that I had packed in my bag (not knowing that we should have picked several MEALS) as he would come over and sniff and then bark, looking at me with sad, pleading eyes and unable to figure out why I wouldn't give him a treat...

The X-Ray machine was finally fixed a little after 1pm and George bravely went with the technician.  She came out and said they only did one view, since he "started to turn purple" when they laid him on his back, due to the fluid in his chest.  The films definitely showed an excess of fluid in his chest cavity and Dr. Hause said he would like to call in a surgeon to perform an ultrasound-guided procedure to drain it and we consented.  The surgeon was at the airport picking up his father for the holidays, however, so we had to wait almost two hours for him to arrive.

It was a good thing that we had not let George eat, as they did have to use gas to sedate him so the procedure could be performed.   During the procedure, Dr Hause came out to update us and asked if we would "like to see" the fluid that had been drained.  Dave and I both said "thanks but no thanks" and he informed us that they had drained "1/2 liter of bloody fluid" from George's chest cavity, which was causing the heavy breathing and coughing.  Regarding the lethargy/confusion, Dr. Hause feels that it may be due to last week's chemo treatment.  Hopefully, the treatment is beginning to break down the tumor, and -- especially since the tumor is so larger -- his body is being burdened by having to rid itself of the toxins, which could be resulting in the lethargy and such.  The excess fluid could also be a result of the breakdown of the tumor, but Dr Hause said it is too soon to tell if it is responding to the chemo drugs or not.

The bloodwork that they did this morning all came back pretty normal.  They amazing thing is that George's bloodwork -- which we have had done diligently every three months for the past several years -- has been NORMAL all along, never showing any signs that anything was awry....

After entering AVS at 9:30 this morning, they led George back out to us following his procedure at a little after 5 tonight....he was still a bit "out of it" from the gas, but was eager to leave and he jumped into my back seat, and curled up for the ride home (which went smoothly until we decided to detour through scenic East St Louis to avoid a reported traffic jam on Hwy 64, only to be stopped for 15 minutes by a train at a standstill.)

George perked up when we arrived home and we fed him some turkey meatballs that Dave had made for him last night.

They advised that we not leave George unattended tomorrow, so Dave will go into the office in the morning and, when he gets home, I'll head into the office for the afternoon.  Fortunately, we're both able to work pretty well from home via remote-access.

Fortunately, George gets a day off before we head back over to see Dr Hause on Christmas Eve for the next chemo treatment as well as follow-up X-Rays and more bloodwork....  We're hopeful that George is his resilient self and pulls us into the waiting room, without regard to what transpired their today.  We shall see....

"The complete devastation and anguish that we are experiencing is matched only by our level of commitment and resolve to do whatever it takes to get George's lymphoma into remission."

Updates on Georgie's brave adventure as we forge a new walking path back to health!

Monday, December 22, 2008               9:46pm

Subject: George the Airedale Treatment Update

After having received his initial chemo treatment at Mizzou last week (seems like a MONTH ago) George had his second chemo treatment this morning, which was his first with Dr. Hause at Associated Veterinary Specialists in Bridgeton.

Following a stressful day of disconcerting behavior yesterday (standing and staring, restlessness, lethargy, disinterest in normally fun activities (e.g. car rides), and numerous hacking/coughing episodes -- of which we started a tracking log -- George awoke a bit perkier this morning and, of course, seemed very hungry since we couldn't feed him before his appointment!

After a foggy, dreary ride over to AVS, we were encouraged that George did not seem hesitant to re-enter the office, despite all the unpleasant procedures that he had endured there just 48 hours prior.

The AVS staff was excited to see George again, especially since he came bearing a dozen extra-large snowmen and Christmas tree cookies from his favorite bakery: Wood's in O'Fallon.  (We knew he wasn't feeling well yesterday when he turned his nose up at a large, iced bakery cookie...typically one of his favorite treats.)

George bravely trotted to the back rooms with his best buddy, chemo nurse Sue, for yet ANOTHER chest X-ray.  Because of the long holiday weekend, Dr. Hause wanted to ensure that he didn't need to drain more fluid from George's chest, to avoid a trip to the ER before his office reopens next Monday.  Dave and I waited nervously in the waiting room...hoping that the films would show no need for more fluid drainage and also anxiously hoping that the X-rays would additionally reflect some shrinkage in the size of the tumor.  We knew that there was a possibility that the tumor would not respond to the chemo drugs, which would then dictate a treatment shift to radiation at Mizzou.  Sue brought George back out to us, and he sneezed when he saw his (his expression of ultimate excitement.)   She told us that Dr. Hause was examining the X-rays and they escorted us to a treatment room where we spent more anxious moments waiting for Dr. Hause.  I kept trying to listen through the door for any clues about George's X-rays, but the only conversations I could pick up on had to do with last-minute Christmas shopping and Christmas gatherings (and I was thinking, how could ANYONE even be thinking about that when George is battling cancer????)

FINALLY, Dr Hause opened the door and said "Oh, there you are.  Come on back here, I want to show you some things."  (With Dr. Hause, there is absolutely no indication/no preface about the type of news he is about to give you.  The day we found out about George's tumor -- which absolutely blind-sided us -- he simply flipped up the X-ray and said, "there it is...he has a huge mass in his chest.")

This morning, we followed him to his office, where he had three X-rays on the light-board.  He showed us what we were looking at, and showed us where the fluid had been on Monday, where George's lungs were on the X-rays, etc...  Finally, he said, "it looks to me that George's tumor has shrunk by about 25% compared to the initial X-ray."  Dave and I both breathed sighs of relief -- and shed a few tears of emotional release/relief -- as the good news sunk in that George's tumor had responded to chemo drug #1!   It definitely gives us great hope and encouragement and helps to validate our decision to pursue treatment, since we know George is not enduring it for naught.

We then proceeded back to the treatment room where we were allowed to stay with George for administration of chemo drug #2, which is given via IV.  (It was a gift to be able to stay with George for this treatment; normally, they just take the patient to the back and then return them to the waiting room post-treatment.)  George had to lie on his side on the exam table, so I stayed at his head and talked to him and petted his head while Dave helped hold him down and keep him still -- along with Sue the chemo nurse-  while Dr. Hause administered the IV.  George was very brave and good and laid very still.  He also received an injection of an anti-nausea drug.  Once the IV was complete, Dr. Hause said, "OK, he's all done."  and George -- somehow -- sprung up to his feet and nearly leapt off the table, but we all held him back.  Dr. Hause laughed and said, "don't go airborne on us George!" 

After calling nearly every Walgreens/CVS pharmacy in the bi-state area (wanting to avoid Wal-Mart on Christmas Eve at all costs) -- we finally found one that carried George's chemo drug #3, which is a pill that we will administer at home, beginning tomorrow -- Christmas Day -- and continue for five days.  Before heading to Walgreens, however, we got George a celebratory McDonald's cheeseburger, which he happily devoured before curling up in the back seat for a well-deserved nap.

We will have to keep George closely monitored as today's new chemo drug -- and another new one tomorrow -- can result in some severe side effects that could start immediately or up to 4-5 days post-treatment.  We were given two pages of potential side effects as well as signs to look for of a possible infection, due to low immunity caused by the chemo drugs.  If we have any question in our minds at all that anything is awry, Dr. Hause instructed us to take George to the ER Clinic in Collinsville and have the doctors there contact him. 

Bottom line is that we are VERY encouraged that George's tumor appears to be responsive to the chemo drugs and we are hopeful that further shrinkage will occur as the other drugs are introduced.

George is a real trooper.  Although this journey has already been quite tumultuous and an emotional roller coaster ride, we are inspired by his resilience and "live in the moment" attitude.  We are hopeful that he will be feeling up to unwrapping his gifts in the morning; one of his favorite activities (he truly is skilled at unwrapping gifts!)

Merry Christmas!

Wednesday, December 24, 2008

Subject: George the Airedale: Christmas Eve Treatment Update

We can't tell if George is just overly-tired or if he is also confused (didn't know if this was a normal side effect.)   He tends to just stand and stare a lot and doesn't want to lie down (although he sleeps fine overnight).  He is making himself even more tired by not allowing himself to lie down and sleep/relax.

Also, he seems to have lost his appetite.  We are offering him a multitude of his favorite foods, but yesterday we felt like we were badgering him with food, so today we are just making them available.  He is eating, but not very much.

Friday, December 26, 2008

Subject: George the Airedale's Treatment Side Effects

Just have a second but wanted to send a quick update.  We had an exceptionally rough day with Georgie today and most of the day found us in tears of frustration.

In addition to the increasingly futile four-hour-long morning process of trying to get him to eat so we could administer the anti-nasaue pill and chemo pill, it was nearly impossible to get him to go out and go potty in all the rain today, which is imperative since the chemo pill causes bladder infection and burning.

To compound matters, the restlessness George has experienced the last few days was EXTRAORDINARY today  and we have been beside ourselves not knowing how much of it is because of the rain and how much may be due to breathing problems/possible more fluid in his chest cavity.  We could get him to lie down for only five minutes at a time, before he would pop back up again..he was so tired he was falling asleep standing up and his legs were giving out beneath him.  We were so worried all day, not knowing if he didn't want to lie down due to chest discomfort or due to anxiety over the rain, or some combination.

By tonight, we were so frustrated/worried we were literally getting ready to head to the ER clinic in Collinsville, although we didn't want to subject George to another battery of tests, scans, etc.. unless they were truly necessary.   If George is acting the same way in the morning, we will likely be headed to the ER clinic.

We just feel so badly for Georgie and we know that any anxiety/frustration that we are experiencing is a mere fraction of what the poor little guy is going through....

All for now; thanks for your support and understanding through all of this.....

Saturday, December 27, 2008

Subject: Quick Georgie Update

Dave and I just got home; they wanted to keep Georgie overnight as his oxygen level is still not where it should be and they want to keep him on oxygen and the monitors.  It was excruciating to leave him, but we are not allowed to stay overnight.  I cannot describe the empty feeling we had walking into the house just now.....

We plan to leave here about 6:30am, to get him picked up by 7 so we can be at Dr. Hause's office in Bridgeton when they open at 8am....I'll keep you posted as time permits.

Also, please be advised that my cell phone is not working...although it does accept voice mails (which I can pick up from another phone), I don't hear it ring, nor can I dial out or send text messages.  (When we ran home earlier today to get George's medicine, I jumped in the shower and didn't want to be apart from my phone, since that was the number we left with the ER clinic...I put it on the shower shelf, but apparently it got splashed and is fried....)

Thanks for your support; please continue to send positive energy Georgie's way....

Sunday, December 28, 2008

Subject: George Update + My Cell Phone Not Working

Monday, December 22, 2008


8:50am
Text Message: We're leaving with George...they can see us at 9:45

Monday, December 22, 2008


1:16pm
Text Message : Still here...X-ray machine under repair

Monday, December 22, 2008


1:57pm
Text Message : Has excess fluid in chest....procedure required to drain...waiting for surgeon....

Monday, December 22, 2008


4:37 pm
Text Message : Procedure underway....

Monday, December 29, 2008


10:11am
Text Message: George needs urgent radiation.   Dr. Hause told us to get on the road and head straight to Mizzou in Columbia, they are awaiting our arrival.... so confused and distraught....latest X-ray with fluid drained shows no tumor shrinkage....could even be larger....

Monday, December 29, 2008


3:16pm
Text Message: George had assessment with radiologist/oncologist, a cardiac ultrasound and they are calibrating the machine and creating the mold that will help them target the tumor.  They can't be as aggressive as they would like with radiation because the tumor is over the heart.

The radiation treatment will be palliative to help decrease the continuous fluid build-up in his chest by hopefully shrinking the tumor.

Tuesday, December 30, 2008


5:21am
Subject: Quick Georgie Update

Got to the hotel last night around 7:30pm or so….Georgie ate Culver's custard (he deserved it!) and a little dog food, so we could give him his Prednisone.  Dave held his leg still while I injected his IV line with saline (while trying not to poke Dave with the hypodermic needle!)

George slept pretty well….neither Dave nor I did...put the mattress on the floor to sleep close to Georgie.   He decided to fall asleep on the cool tile of the bathroom floor, so Dave and I had to take turns going three flights down to use the bathroom in the lobby...

We found a Rent-a-Center with laptops and I stayed up late trying to catch up on work e-mails.

We were also too nervous to sleep as we monitored George's breathing (our whole reason for spending the night.)   The doctor's ideal preference was to keep George in the hospital overnight for observation, but since we wanted him with us, it was our responsibility to monitor him, using several criteria that she outlined for us.  She called and briefed the ER overnight intern on our case and instructed them to page her so she could meet us if an overnight trip was necessary (thankfully, it wasn't.)

We're meeting George's latest new doctor and radiologist for an exam this morning and she will remove his IV line and the tube in his nose.  Also, George's oncologist Dr Rissetto is back this morning and will check in on him before we head for home.

All for now…thanks for your support, concern, and genuine empathy.

Monday, December 29, 2008


4:32pm
Text Message: Looks like we'll be spending the night...they want to keep George for observation but we convinced them to let him stay with us near the hospital so he doesn't have to spend another night away from us (since he was in Collinsville ER last night...)  The doc notified the ER here of our situation and told us to bring him right over if ANYTHING appears to be awry and they will page her to come in....

We're going to find a hotel...didn't expect this trip; we don't have any change of clothes or a toothbrush or our cell phone/PDA charges so may not be able text/e-mail further as charges are low...

Wednesday, December 31, 2008   


6:00am
Had a quick over-night after getting back home with George from our unscheduled trip...still trying to get our bearings after this latest wrinkle in the treatment-plan began Sunday morning with our trip to the ER....it's all kind of a blur and Dave and I don't even know what day it is anymore...

We're leaving at 7:30am to have George at Dr. Hause in Bridgeton for a CBC blood count, which will indicate if his cell counts are high enough that he can have his first dosage of the last chemo drug in our arsenal, Doxorubicin (Doxy). 

Mizzou revised George's chemotherapy protocol, since it now appears that he did not respond to the previous three chemo drugs that he has received.   He will now be on a single-chemo-agent only (instead of the mix of four previously We are CONFIDANT however, that George will respond to the Doxy, which is quite powerful.  Unfortunately, it also comes with many severe, potential side-effects, many of which may not occur for 2-5 days after receiving it.  Therefore, it will be imperative that George not be left unattended during that time.

Wednesday, December 31, 2008   


2:00pm
George's blood work came back OK, so they were allowed to proceed with the administration of the Doxorubicin, which is given via a 20-minute I.V..  This drug is so toxic, that if they miss the vein, and any seeps under the skin, amputation is a possibility. 

Fortunately, the chemo nurses that Dr. Hause employs at Associated Veterinary Specialists are TOP-NOTCH.  They exude confidence and it is very clear that they have much experience in the administration of chemotherapy drugs.  It takes three nurses to administer the Doxy, with two holding the patient still and one closely monitoring the IV drip.  As always, George as a brave boy and was so cooperative.  Although he does not like to lie on his side, he lied very still during the entire procedure, while his good buddies Sue and Dena sang to him, kissed him, scratched and petted him.

Unfortunately, Dave threw his back out hoisting George into the car this morning, which could prove problematic since, sadly, George doesn't have the energy to jump in and out like he normally does, and I am unable to lift him....

Wednesday, December 31, 2008   


6:00pm
George is quite tired after the adventures of the last several days, but is appetite is actually a bit better than it had been when he was on the other chemo drugs (although it is probably being helped a bit by the fact that he's back on Prednizone as well.)

Last week, when George's chemo drugs had severely suppressed his appetite, we had bowls and bowls of different food lined up, not knowing what would appeal to him at any given time.  We had meatballs (beef and turkey), organic grain-free moist dog food, all natural beef and turkey stew dog food, Three Dog Bakery natural pouch meals, cheddar cheese, chicken breasts, turkey burgers, hot dogs, and Pepperidge Farm gravy, just to name a few.  Things that seem to appeal to him one hour, he may turn his nose up at the next.  And he has not been interested in many of his normally favorite treats.

Since it was imperative that he stay hydrated -- due to the possibility of severe bladder burning/infection from one of the chemo drugs -- we tried to entice him to drink Emeril chicken and beef stock, hoping that it would be more appealing than water, and that the high sodium content would entice him to drink water.

In the end, George decided that he prefers to eat the food directly from his mommy's hand, so I have been scooping up fingersful of his moist food and offering it to him.  He'll usually come over and sniff, take a couple of steps back, then cautiously approach again, so I extend my arm so he doesn't have to get too close.  He'll then approach again and sniff, and finally start licking my fingers.  I've fed him many a can of organic dog food this way since last week, but it seems to do the trick.

Thursday, January 1, 2009   


11:00am
George slept well overnight and his appetite is, thankfully, still strong.  He also seems to be breathing pretty well.

It is a bit nerve-wracking to be so hypersensitive to his breathing, but we must monitor him so very closely, especially since Dr. Hause will not be back in the office until Monday, so any doubt on our part that fluid build-up is again an issue will require a trip to the ER.

The primary side effect of the Doxy thus far seems to be lethargy, which is quite common and is the most innocuous of the potential side effects.  We just have to be careful to assess that his lethargy hasn't "crossed the line" to indicate possible infection -- which would require immediate medical attention -- and  to which he is highly susceptible, due to his immune-system being suppressed.

Last Updated: Jan. 7, 2009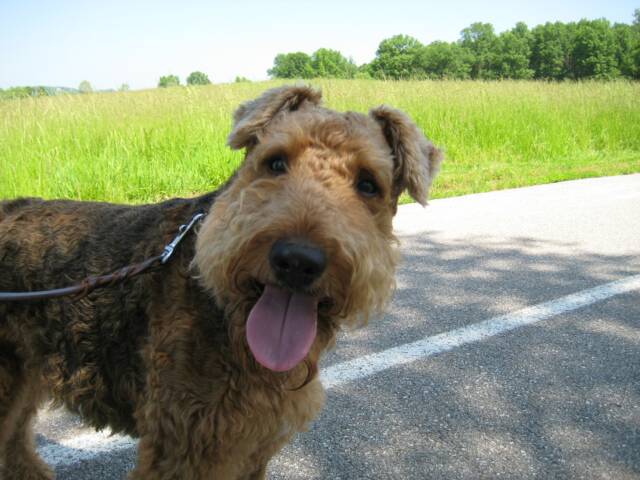 Friday,  January 2, 2009   


9:00pm
Within the context of our new reality, George had a very good day today.  Although we entered the critical 48-hour to 5-day post-Doxurubicin period today, the most significant side-effect thus far has just been lethargy, with no evidence as yet of any of the more serious side effects.

. 

Both Dave and I had to return to work today -- but George could not be left unattended -- so I went into the office this morning and worked remotely from home this afternoon and Dave did the opposite.

It was obvious that Georgie missed having all three of us home together; an arrangement he had gotten very accustomed to since the three of us had not been apart for the past 14 days!  Neither Dave nor I could bear to leave Georgie's side during the challenging days of the last two weeks and it, quite literally, had taken both of us to tend to him, monitor him, and handle the stress and judgement calls related to the breathing problems caused by the incessant and insidious fluid build-up that he had been experiencing.  We had remarked on New Year's Day that it was the first day in the last ten that did not require a trip to the specialist's office, to the ER clinic, or to the University of Missouri.  Sometimes, there's no place like home...

As difficult as it was for me and Dave to be apart from George for even half a day today, I think it did us both good to get out and partake in a sense of normalcy and routine. 

For the first time since George started his treatments, George shocked me tonight by jumping into the backseat of my car on his own!  He has been too weak/lethargic to go on our cherished walks and also has been unable to jump into my car under his own power.   This has been gut-wrenching for me, as the majority of my non-working hours -- and George's activity-time -- over the past ten years has been comprised of me and George walking several miles per day and he acting as my co-pilot nearly all weekend as he occupied my passenger seat and accompanied me wherever I needed to go (with the sun roof open most of the year, even if the heater needed to be on at the same time.) 

Anyway, since George has started his treatments, we have had to coax him out into the garage and then Dave has had to lift him into my backseat for his appointments and emergency clinic visits.  Before Dave returned from work this evening, however, I went out into the garage to retrieve something and when I turned around, George was right behind me wagging his tail and looking up at me with the expression, "let's go for a ride!"  I opened my back door, and he made several false starts....it broke my heart as -- emotionally -- he wanted nothing more than to jump in, but I could tell that he wasn't sure if he had the strength to do it.....after three false starts, however, he circled several times and then leapt right in (albeit with a bit of a groan.)

I took the opportunity to run some errands that had been neglected over the frenetic events of the last several weeks and -- although he slept most of the ride -- having he and I driving around together was good for our souls and it almost felt like everything was "normal" again.

We celebrated our uplifting afternoon with a Cold Stone Creamery kiddie-cone on our way home, which George happily devoured and really helped him perk up for a while (can you say, "sugar buzz?")   Although we have him on a mostly-natural high-protein, low-carb diet (cancer loves carbs), his fantastic oncologist at Mizzou, Dr. Kerry Rissetto, had assured me that "if ice cream makes George happy, then that makes me happy," and no one can argue that Georgie didn't deserve a little ice cream after the bravery and tenacity he has displayed this past week.  (I think our ultimate goal will be to celebrate George's successful remission with a Pig Trough Sundae from White Cottage in Belleville  -- a big pan filled with 15 scoops of ice cream!


Saturday, January 3, 2008

11:00pm
Thankfully, Georgie is still not exhibiting any major, significant side-effects from his major chemo treatment on Wednesday, although it appears that he may be experiencing the onset of some gastrointestinal issues…

Although we breathed a HUGE sigh of relief that – after a day of hyper-vigilant monitoring -- we made it through the day without any major side-effects or a recurrence of severe breathing difficulty that would signal more fluid build-up in his chest cavity (which is what precipitated our trip last weekend to the ER), today was a bit of a frustrating day.

Georgie was very restless and wasn't quite sure what he wanted.   We think that, emotionally, he really wants to be doing all the things he normally does, but since he doesn't have the energy and just generally doesn't feel well (obviously), his body cannot comply, which results in much frustration for him.

He spent much of the day barking at us and/or pawing at doors.   At any given time, we couldn't discern if he was barking because he hungry, thirsty, wanted to go outside, etc..  so we pretty much spent the day attempting to satisfy him by continually rotating through offers of  a variety of food and water and opening the doors into his "area" and onto the patio.  I even took him outside on his leash, but he just stood and stared and didn't really want to walk anywhere.  It became almost comical, because we were just following him around wanting to appease him.  We thought a ride would do him good – so we took him out to buy a baby monitor  (his bark is quieter/a bit raspy these days, and his medications cause him to have to go out overnight so we want to make sure we can hear him.)   It was kind of a bummer that he couldn't jump into my car today (Dave hoisted him in), but we do realize that yesterday's feat was a bit of an anomaly.

We are grateful that his appetite has remained strong but have been quite surprised that he still only wants to be fed by hand (which is the LEAST we can do for the little guy….)

Due to his illness and the barrage of treatments that he has endured, however, he is still not "our Georgie."  It is encouraging, however, that his unique, adorable, exuberant personality is undeniably still lurking beneath the surface, and the sparkle in his eyes remains – albeit at a MUCH MORE subdued level.

Even in the current context, and even during somewhat frustrating days, there is still nothing better than hanging out with our precious Georgie, a privilege and a luxury that has always been our number-one priority – and that we have savored every moment of -- for the nine-plus years that we have been a family.  Here's to many more years of our family of three!

Sunday, January 4, 2008

As the roller-coaster of cancer treatment goes, the high of a pretty decent (albeit restless) morning and early afternoon -- including George's highlight of the day when we took a short jaunt down the street to visit his good buddy Riley the Lab (a Marley look-a-like) -- descended into a stressful late afternoon/evening as George developed the onset of post-Doxorubicin severe diarrhea and couldn't rest or relax due to his frequent -- and sudden -- trips outside.

Dave and I got a bit stressed out trying to administer Pepto-Bismal in several forms, including broken in food, which George somehow separated from the moist food in his mouth and spit them out!).  Administering the liquid Pepto via a syringe was even more stressful (and quite a bit more messy as well) all while trying to ensure that he drank sufficiently to replace all of the fluids that he is losing.

Although we had planned on working our normal schedules tomorrow, George's current situation does not make that look realistic, so Dave and I are trying to make the necessary arrangements.

We do not take for granted the understanding and support of our respective employers during this tumultuous time but we do feel fortunate that we can both be quite productive working remotely from home.

Based on the frequency with which George needed to be let out today, we are not expecting a very restful evening, but sleep has become pretty over-rated anyway!

Tuesday, January 6, 2008

Poor Georgie has had a couple of restless days and nights comprised of the incessant (and sometimes quite urgent) need to go outside.  The baby monitors have been quite helpful during the overnight hours as we are able to hear him pawing at the door, which is in the farthest corner of the house away from our bedroom.

He has to be completely exhausted from being up all night and all day, without adequate time to really fall into a deep sleep.

We are taking George back to Dr. Hause in Bridgeton in the morning, where his diarrhea-situation will be assessed and, most significantly, he will have follow-up bloodwork and a chest X-ray.  We remain hopeful that the radiation and Doxorubicin chemotherapy have been successful in both staving off the dangerous chest cavity fluid and in shrinking the tumor.  This X-ray will be our first indication of whether or not he is responding to this last -- and most powerful -- chemo drug in our arsenal.

Wednesday, January 7, 2008      11:00pm

It is with excrutiating sadness and unbearable, nearly indescribable devastation -- and a bit of surrealness --  that I must force myself to type the following words:  Our beloved Georgie is gone...

Dr. Hause's X-Rays this morning revealed another build-up of fluid, appearing to indicate that George was not responding to the Doxorubicin chemotherapy.  As he had on December 29th, Dr. Hause sent us on an emergency trip to the University of MO Veterinary Teaching Hospital in Columbia so that they could drain the fluid and perform another radiation session in hopes of shrinking the tumor and stopping the constant effusion of liquid into George's chest cavity, which made it difficult for him to breathe.

As always, George was a real trooper during our two-hour drive to Columbia from Bridgeton....despite the fact that he had been needing to go outside to go potty nearly every two hours, he seemed to know that we were in an urgent rush to get to U of M, and he rested quietly for the duration of the drive.

I am unable right now to bring myself to describe in detail the events of the rest of the day, except to say that George went into cardiac arrest when they were bringing him out of the sedation following his radiation treatment.  The doctors worked hard to resuccitate him, even performing open-chest compressions, which revived his heart for a brief time -- but, in the end, his lungs were just too compromised and his system too taxed by his cancer, the tumor mass, and his treatments, to kick his system back into gear.

We were permitted to spend some time with our precious boy before leaving the hospital, and then decided to bring him home so we could make arrangements.  We thought that it was only fitting that we take one final, family ride with him....one of his (and our) favorite things to do.  We took him to a 24-hour emergency veterinary clinic in South County on our way home, where he will stay until we can plan a proper funeral and burial for him, which we are tentatively planning to hold on Sunday.

Thanks to everyone for your support, and your genuine care and concern for Georgie -- and for us -- during his valient and brave fight against cancer over the past month. 

We cannot even begin to fathom life without Georgie.....for he has BEEN our life for the past 9+ years......

We will post information regarding George's arrangements once they have been finalized.