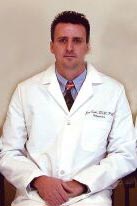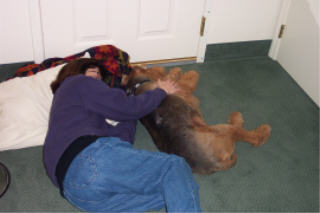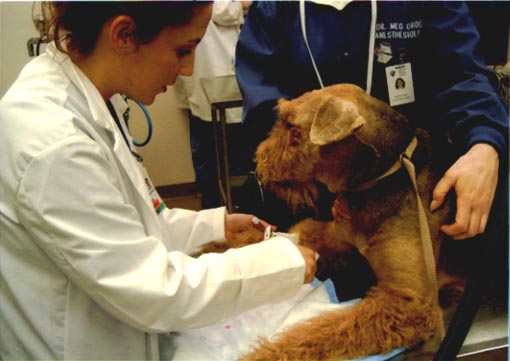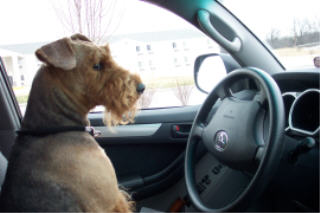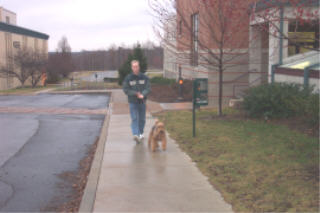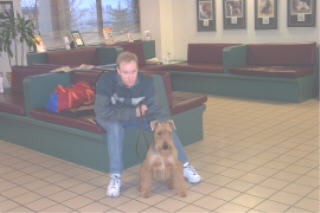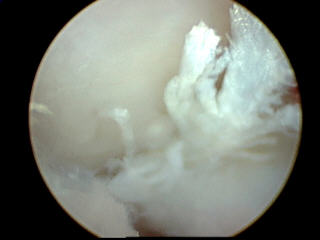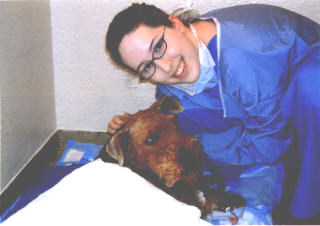 George the Airedale's

TPLO Surgery Photos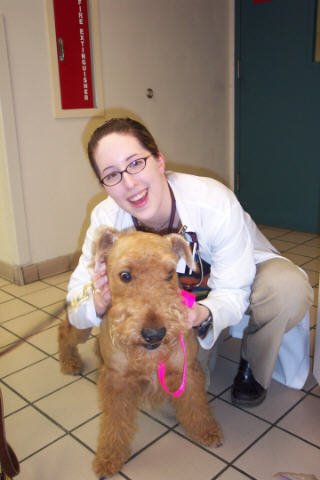 George takes over the driver seat during a pit stop on our

drive down to the University of Missouri.

George and Elisa nap at the hotel the night prior to surgery, following George's pre-op X-Rays.

Despite George's X-ray experience at the hospital the day before, and the fact that he is walking on only three legs, he eagerly pulls Dave into the University of Missouri Veterinary Teaching Hospital the morning of his surgery. (It's a good thing that George was so eager, as we nervously thought about turning around and heading for home instead that morning!)

At 7 a.m., Dave and George wait in the deserted waiting room for Joanna, the vet student, to take George back to the anesthesia holding area to prepare for surgery.  In the bag behind Dave were George's special blanket, toys, treats, and the sign for his recovery kennel.

George's surgeon, the legendary Jimi Cook, DVM, PhD

George's vet student, Joanna Buckley. Joanna gave George lots of attention and great care and they became buddies during his stay.

Dr. Cook was nice enough to provide us with a CD containing photos and video of the arthroscopy that he performed on George immediately prior to the TPLO procedure.  During the arthroscopic procedure, Dr. Cook viewed and removed George's torn meniscus (cartilage) which is commonly damaged when the ACL has ruptured. This photo shows the damaged meniscus.

George's buddy and vet student, Joanna, was thoughtful enough to take her camera to document George's surgery, and she provided us with these photos:

George has already been administered a sedative at this point (which he why he looks so sleepy) and he is being given the anesthesia.  (This photo really breaks our heart....we wish we could have been there to hold him when that was being done.)

Georgie and Joanna as he was waking up after the surgery.  We're so glad that Joanna was there to comfort and reassure him.

Click on the icon below if you'd like to read an article about Dr. Cook's amazing hip replacement surgery on a snow leapord!

Click the button below to view photos of Georgie upon his return home from the hospital.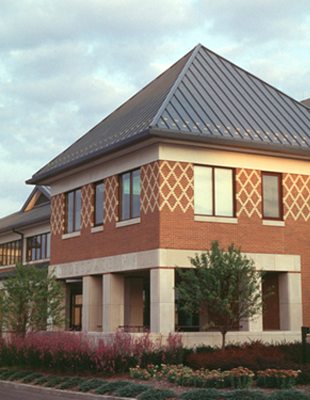 The small animal clinic at

The University of Missouri Veterinary Teaching Hospital where George had his surgery.

If you have the Adobe PDF reader, click the PDF link after clicking the icon above.

New photos added on next page:

March 25th:  See below for new photos